2018 ESPIOC Conference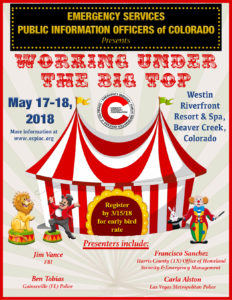 Join your public information colleagues for a two-day training conference designed to sharpen your communication skills and give you new insight and ideas for handling difficult and emerging issues.  Learn what other communication professionals are doing and take home tips that will help you be a better PIO.
WHEN: Thursday and Friday, May 17-18, 2018
* Conference check-in will be Wednesday afternoon and Thursday morning (Exact times will be posted by April).
* Opening remarks will begin at 8:45 a.m. on Thursday, May 17. The last session ends at 4:30 p.m. on Friday. Breakfast and lunch is provided both days.
WHERE: The Westin Riverfront Resort & Spa at Beaver Creek Mountain, Avon, CO
WHO: All PIOs and communication professionals – especially first responder agencies or organizations working with police, fire, medical and other emergency services – and personnel who may be assigned to back up the PIO.
SPEAKER LINEUP:
Francisco Sánchez, Jr., Harris County Office of Homeland Security & Emergency Management – "Ten Year Anniversary of the Regional Joint Information Center: Why it Worked for Hurricane Harvey"
Ben Tobias, Gainesville (FL) Police Department – "Social Media VIRAL – Behind the Scenes:
Understanding the How and the Why"
Jim Vance, retired PIO from the US Marine Corps and the FBI – "Following the Circus Parade with a Shovel and a Broom: Challenges of the Modern Public Information Official"
Carla Alston, Director of the Office of Public Information for the Las Vegas Metropolitan Police Department – "Lessons Learned from the Vegas Shooting Incident"
Nigel Holderby and Bill Fortune, American Red Cross of Colorado and Wyoming – "When Social Media Becomes the Disaster"
Eric Hurst, South Metro Fire – "I-25 Tanker Fire Lessons Learned"
Mary Dulaki, City of Denver – "Dealing with Open Records Requests & HIPAA"
Chief Nick Metz, Aurora Police – "Working with a culturally and racially diverse community"
Lynn Kimbrough, FEMA – "PIO 101"
TO REGISTER:
Complete this 2018 Conference Registration form and send it with payment to:
ESPIOC Conference, c/o Nathalie Klasens
Cherry Hills Village Police Department
2450 E. Quincy Ave.
Cherry Hills Village, CO 80113
—OR—
If you prefer to pay through PayPal or credit card, complete payment information below. Then, mail this registration to Nathalie or email it to nklasens@cherryhillsvillage.com. You will receive a confirmation and further information.
ROOM RESERVATION INFORMATION:  Room rates for the conference are $115 per night. Please follow the instructions on the 2018 ESPIOC conf. hotel info(PDF). Please note that the Westin website will show the dates as May 16-17 because those are the nights we blocked for reservations. The actual conference dates are May 17-18.
You must also fill out the TAX EXEMPT AFFIDAVIT (PDF) and bring it with you to the conference to get tax exempt rates.